What do you get when you book with Xtreme Gap over other Gap Year Companies?
| | |
| --- | --- |
| ´Travel with us is all about adrenaline travel. Is doing incredible things and exciting activities whilst you travel and see the world, meeting new people and doing all the cool stuff that you just can't do at home . It is personal development through mind blowing trips, projects, work and travel programmes and awesome travel experiences ´ | |
Loads of help and guidance  

before

 you book
Travelling somewhere for the first time can be quite daunting, so we help prepare you before you before you go with loads of information, first-hand advice and give you all the facts about where you're going and what you're doing. Because we have researched the trips and locations ourselves, we can give you the lowdown on absolutely everything. From where to go, what to do and what to expect when you get there we are here to help you 100%. After booking you get access to our exclusive online buddy list system so you can chat to people who are on the same trips as you before you've even gone, and we also give you a really detailed predeparture kit to read before you go.Whilst we do not provide flights, we can put you in touch with the Xtreme gap team at the Flight Centre, who can help arrange your flights and we have connections the travel insurance  and visas as well.In fact the only thing we can't do is fill in your booking form for you, that's up to you but we make everything else incredibly easy.

Over 360 Trips Tailored to your liking

With many of our experience programmes, you can choose different options on different weeks. This means you get the trip tailored to your own individual travel style, yet still have the security and fun of a group. More action, more beach time, you decide will do the rest.

New friends from all over the world.

We have low overheads, and can pass on cost savings to customers or include more in our trips. Want to know what it is like to run a virtual office? Check it out here! Seen something better value? Put us to the www. Now this may mean you can not actually come in an meet us, but we can be available to have some face time on Skype anytime.

Hand picked, tried and tested adventures.

We genuinely feel passionate about giving you the best travel experiences, which means research and trying out the trips before we promote them. Yes people dam hard, do you realise how many gorgeous beaches we had to scout out, adventures we had to do and amazing activities we had to experience to bring you our favourites? Of course not all of them made it onto the site, for good reason,but we still had to see them anyway. Shark diving in the Solomon Islands anyone?

Diverse experiences

Many of our experience trips feature different weekly options set in different locations, this means by the end of your four weeks you will have experienced such different places and activities you will come home feeling that you generally discover more about the country and really felt like you have done all. Anyone consider the beach getting drunk, but when you really experience the different cultures and action packed itineraries you know you will have had an awesome holiday.

Pre travel buddy lists and detailed pre departure packs

The people you are with can really make the trip, it's nice to know who you will be spending a month with an get another little bit before you go, to help you with this we have our exclusive online buddy list system, so you can chat to them and get the banter going before you trip starts. Our customers also use the facebook buddy list system to meet up with people before they travel, and make sure they are safe flight.We also include a very detailed predeparture pack the you to read before you go, not only does this tell you everything you need to know as loads of information on the country, custom culture,what do, where to go and everything in between.

A warm welcome at the airport on arrival

If you are worried about what will happen when you arrive, do not be, there will be a friendly face to meet you at the airport, and transfer you to your new home where you will meet the rest of the group and begin your adventures.The Xtreme experience trips are the perfect way to do your first bit of travelling, guided enough to make you feel safe, but with plenty of freedom to really enjoy your experience too.

Life changing experiences and lasting memories.

Xtreme gap was started to help share incredible life changing travel experiences, to the very core of what we do and we know the trip with us can change you forever and give you long-lasting memories. Everyone has their own favourite highlights, and every experience trip is different, but we guarantee when you finally come home you will definitely be planning your next travel adventure because when the Xtreme travel bug bites, it bites hard.
Trips That Can Change Your Life
[tagline_box link="https://xtremegapyear.co.uk/destinations" button="Search for a Trip Now" title="Make your travels or gap year count with Xtreme Gap Year! Dream trips from one week to one year…"][/tagline_box][content_boxes][content_box title="Get A Free Brochure"  image="https://xtremegapyear.co.uk/wp-content/uploads/2012/07/ico-03.gif" ]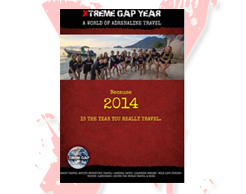 [/content_box]
[content_box title="What Can You Do?" image="https://xtremegapyear.co.uk/wp-content/uploads/2012/07/ico-03.gif" link="/destinations"  linktext="Activities"]There are plenty of things you can do:
[/content_box]
[content_box title="Where?"  image="https://xtremegapyear.co.uk/wp-content/uploads/2012/07/ico-03.gif"  link="/destinations"  linktext="Destinations"]40+ Mind blowing destinations. Do some, or do them all!  The worlds your oyster!
[/content_box]  [/content_boxes]
[display-posts tag="gap-year" image_size = "thumbnail"  include_excerpt = "TRUE"][/display-posts]
Discover what some of our travellers have said about the  trips when we asked them what travelling with us did for them.
Ready To Book? What happens after booking?
---
| | |
| --- | --- |
| We take bookings up to a year ahead, and while some of the experience programmes can be reasonably expensive when you consider what that gets you they are exceptionally good value for money and when you are planning one year in advance, saving £150 per month can bring you a life changing adventure it makes you think perhaps it's worthwhile rewarding yourself with an amazing experience.You can actually take action in committing to your travel plans today for only £100, and if you do find a friend to travel with who books with us, you will get that back too!Take a look at our top group travel trips below, be sure to get trip notes the detailed information about what happens on the programme, and of course contact us about your trip with any questions you have is would love to help you onto a new adventure. If you want us to talk to you about how you can save up for the trip, do get in touch as well. | |
How does Xtreme Gap compare to other companies?
With lots of travel companies out there, we feel you deserve to know the difference:
| | | |
| --- | --- | --- |
| We are owner run and operated | | Lower staff overheads, meaning more inclusions and trips (better value) or passing cost savings onto customer but most important:Our Stake holder interest! Our   customer service has higher priority as we genuinely care about customer experiences. We are 100% responsible for making sure you have a good time |
| We are a highly travelled team and   overly qualified! Travel and adventure is in our blood. | | Owners are dive instructors, Divemaster´s, surfers, kite surfers, and a qualified pilot and have visited most of the destinations and are able to advise properly on what it is like to do the activities |
| We do not run call centres or expensive offices with loads of staff and lots of overheads. We are a purely online setup. | | We have low overheads, and unlike other companies like gap 360 or real gap. So we can pass on cost savings to customers or include more in our trips. Want to know what it is like to run a virtual office? Check it out here! Seen something better value? Put us to the www. Now this may mean you can not actually come in an meet us, but we can be available to have some face time on Skype anytime. |
| We are devoted to providing detailed information, above and beyond the normal industry standard. See our network of blogs for more. | | Comprehensive network of blogs, predeparture packs that provide extensive first-hand knowledge of destinations, trips and country information meaning customers are more prepared for their trips |
| We are constantly looking to improve your experience | | With unique features like our online buddy lists, giving our customers a real-time ability to be up to chat to other people in country after booking, not just providing phone lists that rarely get used |
| We are equipped with multinational locations of virtual offices: Australia and Europe | | We can now cover all time zones, and create a better network of partners over the majority of the competition that just UK-based. |
| We are proud to run our own trips as well. | | Meaning more unique programs, designed to be fun not just influenced by profit margins and commissions offered to us. |
| We are ethical and avoid voluntourism. | | Proving we are not just in it for the money, we are an ethical company and genuinely believe that the exciting travel experiences we offer genuinely offer better benefits and rewards to the customer.Real Gap year companies that sell volunteering are in it for the money. Period. |
We are genuine experts in what we do and promote.
Ok, so we have a slightly older management team (Ouch! Sorry team but you dam old!) than most sales advisers in the industry, our average age is 33. However what this means you is that we have travelled to visited and actually lived in most of the destinations. We are connected up the Gazoo, so you are not only in safe capable hands, but we speak from experience and  have a much better insight into the world of travel. We absolutely love it, we have all been bitten well and truly by the travel bug,    and yet at the same time we are young enough to relate to the customers and put together the best value trips.  Grab a copy of our brochure  and you will see first hand some of the ridiculous situations we have been in.
Ok, you get it you want to do this! But you are broke! How can you make this happen?

Hey isn't everyone, that's the big problem these days isn't it, while you are young you have loads of free time and not enough cash, when you're old you have no time but more dough to play with. Well the simple answer is, you need to plan this well ahead (unless the bank of mum and dad be broken into). You can actually book your spot for only £100, and you can book your spot one year ahead. You then have nine months to save up enough cash to pay for the trip, and a further three months to save your flights and spending money (although you will not need much, as there are so many activities included with our trips). By booking well ahead you also have a timeframe and something to work towards, making your travel plans much more realistic. Some say money is the root of all evil, we say the pathway to an incredible adventure.

So really the only thing that's is stopping you, is you. Go ahead and commit your travels and do something amazing and it all starts with filling in the booking form.
The Booking Process
Fill in a booking form for the programme of your choice.
Once we have received your booking form we will start to process it. Please do not book flights until you have heard from us.
We will respond to your booking form within 24 hours (if we have not done so, something has gone wrong so kindly check with us)
If there is availability on your program we will send you a confirmation invoice and your booking deposit invoice.
If your trip departs within 12 weeks, you will need to pay in full. If your trip is more than 12 weeks away (you can book a year ahead) then you just need to pay the booking deposit invoice, this confirms your place on the trip, you then pay the balance 12 weeks before you depart.
Once payment is received we will confirm this, and issue you with your pre-departure pack, and set you up on the buddy lists (if applicable to your trip).
You are now good to book your flights.
Please then send us your flight details, and confirm that you have travel insurance.
You are then all set for an amazing adventure.