Go Travelling & See The World While You Still Can!
Whether you realise it or not,
now
is probably the best time to start planning a round the world trip. Not next week, or next month, or next year. That means later. Later means never and that would be bad.
Vietnam Xplorer - From USD 1399
Become a true Vietnam Explorer as we travel north from Ho Chi Minh City to Hanoi covering all the best that this incredible country has to offer. Discover the culture and dive deep into its not too distant past, visit the amazing sand dunes of Mui Ne, stunning beaches, breathtaking caves and national parks and finish off with a private island getaway in Halong Bay. With 17 days of action packed fun, it is the perfect amount of time to spend in this amazing country.

See Trip Details Ask A Question Request Trip Notes
---
Round the World South East Asia - From USD 3499
South East Asia is a very interesting, fun, safe and beautiful part of the world. It has a well-trodden backpacking route for good reason. This group trip will show you the best sites in Vietnam, Thailand and Laos in a whopping 9 weeks!

See Trip Details Ask A Question Request Trip Notes
---
Having trouble deciding which trip is best for you? This awesome itinerary takes you to see both the North and South of Thailand, making it the best value for money trip on the planet! From visiting temples to snorkeling boat trips, this trip has it all. Strap on your adventure helmet, because you are about to go on the ride of your life!!

See Trip Details Ask A Question Request Trip Notes
---
An amazing 14 day adventure starting in Bangkok and ending in the beautiful northern city of Chiang Mai. Experience the coolest places & activities central and northern Thailand have to offer.

See Trip Details Ask A Question Request Trip Notes
---
Round The World Thailand & Australia - From USD 2609
Thailand & Australia offer the perfect mixture when you want to go travelling. Stopping off in Thailand you will be blown away by the culture, beaches and stunning beauty of the country. Featuring a month long Trip you can really do it all, lazy days on tropical beaches. Partying in Bangkok, temples and action. Then it's on to Australia, where you will have an amazing first week followed by an exciting adventure up the East coast.

See Trip Details Ask A Question Request Trip Notes
---
Round The World Australasia - From USD 5477
So you want to do an amazing round the world trip, but not sure where to start? This is a pretty good option for you! The best parts of Thailand, Australia and New Zealand. All the must-do activities, incredible places and incredible people await. From Thailand island hopping to the East coast Australia and a mental few days in Queenstown, the adrenaline capital of the world, this is the perfect backpacking adventure.

See Trip Details Ask A Question Request Trip Notes
---
Round The World Tropical Beaches -Thailand – Bali – Australia – Fiji - From USD 4219
If you like beaches, this is YOUR trip! From island hopping in Thailand on to Bali and the Gili islands on to and awesome surf trip in Indonesia. Then Australia, all along the East Coast before rewarding yourself with some serious Pacific beach time on a paradise islands of Fiji! Four awesome countries with loads of beachtime, activities and culture.

See Trip Details Ask A Question Request Trip Notes
---
Never means…
Never seeing amazing countries and cultures.
Never meeting those life long travel buddies, that only the experience of travel can give you.
Never sharing those amazing travel experiences that will shape you and change you forever.
Never having the time or space to figure out who or what you want to be.
Never having that feeling of Freedom! Travel gives you the ultimate freedom, positive change and happiness. It gives you the time and opportunity to accomplish the above so why put it off (ps. Did we mention travelling is a lot of fun!?)
Not everyone gets this opportunity to go. Most don´t in fact.
If you take away one thing from reading this. Make time to do it now because you won´t regret it. Especially when you get to that point in your life when you think:  what have I actually done apart from getting a mortgage and have kids?
If you are in your late teens or early twenties, you probably won't relate to that. Someday you will so take our word for it.
Travel before you get a career, get into student debt, start a family or a job you love. You have the opportunity now. If not the money now, you have the opportunity now and that's all you need. Contact us to find out how, call us on skype with your folks if you need. We can help you do this.
Have some fun, go mad and make the most of, what is in the big scheme of things, your brief time on this amazing piece of rock. You´ve got to have something to tell the kids! Just remember to censor the photos.
Why most people put off travelling and live to regret it.
Can´t afford it. – The most common thing stopping people travelling is ironically one of the main reasons you should go travelling. Money and feeling you can't afford it. If you look at some of our trips below, they can run into the thousands to complete. Who has that just lying around in their bank account to just drop it all and go travelling? We can tell you the answer. No one. However, that does not stop hundreds of people travelling on these trips with Xtreme Gap each year. So how do you do it? We will tell you, the answer is planning it, with our help you can be saving and going within a few months. If you have £49 in your bank account, you are ready to commit to a life-changing adventure. Why should you definitely go travelling if you feel you can´t afford it? The answer to that lies in the opportunities you get when you go travelling. Who knows what path your journey will take, working in Australia for example, could lead to a new career in bigger and better things.
No one to travel with. – Many are worried about travelling alone. No one to travel withholds them back. Well, don´t worry. 90% of our travellers are on their own… Not for long though. With our groups travel programmes, we make it easy to make new travel mates and share fun exciting adventures. So if this reason applies to you, think again. All good things happen when you take the leap to make the change. Do it travelling. Do it now.
What can our Round The World Trips Do for You?
Hands down they will change your life permanently for the better! Our travellers have given us feedback stating how their confidence improved tremendously, others have said how they grew as individuals or developed new social skills. Everyone had a lot of fun and learned more about the world and themselves. Its social freedom, and a personal journey of discovery.
The round the world trip… It´s jet lag hell but sightseeing heaven. It´s a sensory overload of cultures, scenery, languages, food and god knows what else. It will change you. Everything about you. Your perspective changes and that is a good thing.
Will it really be that great? we hear you ask. Well, do bears crap in the woods? They do in Yosemite. Go and check it out for yourself.
Custom OR Ready Made Round The World Trips.
Welcome to the mother of all adventures. The ultimate journey of a lifetime. The bloody hell, I´m actually doing this!  Round the world trips experience!
So if you are looking to do around the world trip how can we help?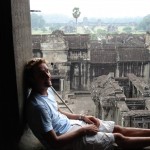 The first thing to do is get in touch with us. Your head is probably spinning with endless options, and it's very hard to know where to start. The good news is we are experts at helping people like you plan amazing adventures.
Our round the world trips, are usually custom made after consulting with our clients about what they want to do. Of course, we already have some set itineraries which are very popular and taking some of the best backpacking route.
But everyone is different, so contact us and we will put something together for you.
The combinations of Round The World Trips  are endless:
You can also get a flavour for some other customers round the world trips we have put together in the past. If you need personal advice please do not hesitate to contact us. We would love to hear from you and help you arrange an amazing round the world trip!
Round The World Trips Are Expensive – How To Afford Them.
Unless you are Rockefeller, o and or have just won the lottery or have golden access to the bank of mum and dad (and let's face it very few of our travellers do), then you are probably wondering how on earth you're going to afford such a trip.
The fact is the majority of our travellers have the same dilemma get every year thousands of individuals successfully managed to save up and embark on a trip of their life.
If that seems like a million miles away don't panic, there are plenty of options enable you to travel the world without breaking the bank.
Through example working holiday Visa arrangements, mean you can travel and earn at the same time.  We have a host of dream qualifications that will get you a job abroad, and you will have a blast in the process.  Thousands of travellers have been abroad with Xtreme, worked in the outback, and money on boats in Marine parks or found paid jobs in diving or snow sports instructing.
Even if it does seem daunting don't worry we can help you.
Don't worry we are here to help you. In fact, booking around the world trip with us makes it exceptionally easy to make your travel plans happen.
Sometimes if the finances are not there now, they will be if you plan it right.  The way these trips are set up we can really make it happen for you. We offer interest-free payment plans with the final balance paid weeks prior to travelling.
This gives you a further 3 full months to save for spending money and flights once you have paid off your trip balance. This makes life stress free as you have already booked in Xtreme Gap Year round the world trip you will have plenty of your accommodation, activities, transport and loads of other inclusions booked and paid for.
What you need to decide (and we can help you  with that).
All you need to decide is how much time you need to give yourself to save yourself enough money to have a great trip. We are able to advise on how much it will cost, how much you should budget for spending money and any other costs that you may not have considered all throughout the booking process.
Further advice on round the world trips.
More on the ultimate round the world adventure
On our ultimate round the world adventure the fun begins in South-East Asia where you´ll spend time exploring Thailand and Laos, trekking through jungles, riding elephants and learning to kick ass with some martial arts experts (superhero masks optional).
Following that you can chill out for a while on some idyllic beaches before ramping up the action again in Australia and New Zealand. In the water, on land in the air nowhere is out of bounds when it comes to activities to get your blood pumping.
We guarantee that you´ll love this continent so much that you won´t want to leave, but the home of raucous road trips awaits the U.S of A. Rock up in glitzy LA and make your way across the country to The Big Apple, stopping at some fantastic places in between.