Dream Qualifications
Our exciting qualifications enable you to learn and earn on your gap year (or career break). Courses range from working as a surf instructor, crewing on boats, becoming a Dive instructor or Divemaster, even working as a Field guide in Africa!
Okay so the dream qualifications tend to cost quite a lot of money, but most of the time they are real life changes, and you can work abroad with the newfound qualification to extend your travels.
Don't have the money to splash out on one of these? Then you can still do some work and travel with working holiday packages in Australia and New Zealand. These are great if you want to pick up casual work in Bars and service jobs while you travel to top up your funds, and really help you get set up for a working holiday trip, but if you really want to do some unbelievable stuff check out the following qualifications.
Diving Qualifications
Work in the diving industry all over the world. This unfortunately means your office will most likely become a beach on a tropical island and we are sorry to say that it is really fun lifestyle choice, b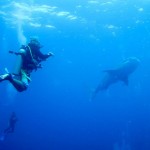 ut hey someone has to do it, might as well be you.
The best place to start is with your divemaster qualification, and if you really want to make a new lifestyle out of it go the full hog and become a diving instructor! You don't have to go all the way to instructor or even dive master to earn money whilst you travel: The popular option is the underwater videography course, where you learn to become a moviemaker in Koh Tao and get paid in the process.
Surfing Qualifications
Become a Surf Instructor in Australia or Morrocco! This is another lifestyle choice, that make people wonder why they hell they did not persue it before. The course can take 2-3 months and is seriously fun hanging out on beaches, surfing, BBQ ´s and parties with really good job prospects at the end.
Whitsundays Competent Crew Qualifications
This one is a real gem. We can train you to crew on boats, which is a paid position by the way, so that you spend your gap year sailing around one of the most stunning marine parks in Australia. You literally live on the barrier reef on megayachts! And because your food and accommodation is provided with your job, you save a packet.
Field Guide In Africa
This is not a job you do for the money, but it is certainly an incredible life experience, the 28 day course is enough to get you qualified to work in the industry, but for the full experience go for the one year course including 6 months of work experience- Its not cheap though, but not bad considering in take a year and costs under a grand a month.
Ski or Snowboard Instructor
Living the ultimate lifestyle in the mountains with Level 2 instructor qualifications in Canada. Our 12 week course (longer than most) includes more qualifications to get you into a job quicker too.
Go Be A Cow Boy
Finally if you want to do something really out of the ordinary, and you're heading to Australia then why not try your hand at being a cowboy (or cowgirl) with our outback ranch course designed to give you all the skills you need to find a job in the booming industry that is Australian agriculture. It's tough work, but a lot of fun and as these positions are generally including accommodation and food it's a great way to have a laugh try something new and meet new people.