Hop on & Hop Off or book a package with all transport and accommodation. Dreamy beaches in south pacific islands await on the award winning Fiji Experience. Pick a pass and off you go. Super simple to get around and a great way to meet people in Fiji.
Book Now
Fiji Experience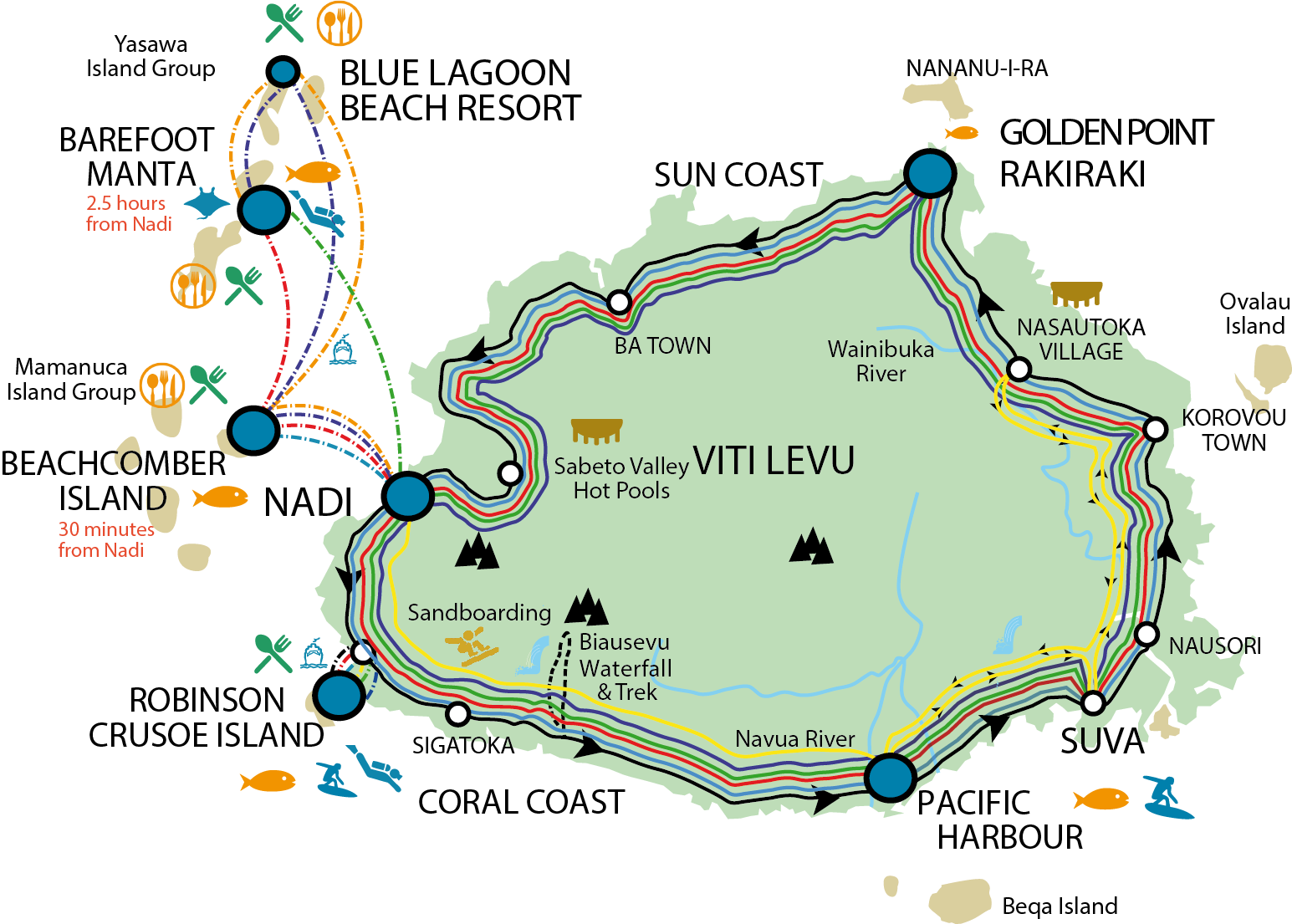 Fiji Experience Highlights Include:
Scuba Diving at Volivoli: Off of the coast of the remote Volivoli Beach there are 22 flourishing dive sites waiting to be explored, whether you are beginning, experienced or advanced Ra Divers will expose you to this marine paradise.
Swimming with the Manta Rays at Mantaray Island Resort
Sand boarding: Boarding the almost vertical sand dune down the historical Sigatoka Sand Dunes will get your heart jumping as you take in the amazing scenery at the top of the hill.
Sevu-sevu ceremony: Taking part in a traditional kava ceremony is a privilege and is an ancient practice still practiced in Fiji regularly.
Visit a real village: No experience compares to a visit to a Fijian village. Take the time and effort to have a chat and hang around with the locals for a few extra rounds of kava.
Beachcomber Island, world famous in Fiji this is a must!
Natadola Beach: Voted one of the best beaches in the world it offers all-tide swimming in crystal blue waters, snorkelling, and horse riding.
Suva City: The largest city in the South Pacific (excluding New Zealand and Australia of course). Bustling with activity as the cultures of Fiji mesh.
Coral Coast Beaches: Our first over night stop is the fantastic Mango Bay beach, which is the perfect chance to take advantage of all the Coral Coast has to offer.
Nadi town: is multiracial with many of its inhabitants Indian or Fijian, along with a large transient population of foreign tourists. Definitely check out the Nadi markets and the amazing Hindu Temple at the end of town.
 
Fiji Experience Passes.
We have 4 passes available
9-day Triple Treat
8-day Mango´s & Manta rays
6-day Lay Low
4-day Whole Hula!
Click on the pass for the details.
AMAZING FIJI RESORT ACCOMMODATION – ON A BUDGET!
The Fiji Experience offers the best in Fiji budget resorts at the best value for money. The accommodation includes everything you could want in an island experience including beaches, diving, snorkelling and loads of other free activities included in your accommodation price. Your Guide can book and guarantee your accommodation for you daily in dorm, double or twin style rooms –  Sega Na Laga (NO WORRIES !).
AMAZING RESORTS…
Stay at award winning accommodation that is environmentally aware, yet very comfortable and located in fantastic settings at budget price. Here is why we choose them for your Fiji adventure!
Volivoli Beach Resort: All the elements of beachside living come together at Volivoli Beach, with a perfect blend of relaxation, water sports, nightlife, cultural activities, fantastic fishing spots and world-class diving. The complex stretches along the coast from a hidden cove to a stunning sand spit, with its own Fiji-style thatched-roof beach bar. A variety of accommodation is available to suit all preferences. This is Fiji's newest resort and have spared no expense to make this place truly unforgettable! Oh and did we say WORLD CLASS DIVING!!
Robinson Crusoe: Robinson Crusoe Island has been an icon in Fiji for nearly two decades
Uprising Beach Resort: Located in Pacific Harbour, these guys won the best budget accommodation award for 2009 & 2010! This is an amazing beach front property with Beachfront Bures, Garden Bures, and Dorm Style accommodation. The restaurant produces amazing meals at budget prices! Free and paid activities operate daily including Jet Ski Safaris , Shark Diving (pre-booking suggested) and other Motorised Water Sports.
Beachcomber Island Resort: Afloat in a tranquil marine sanctuary in the beautiful Mamanuca Islands, this little island paradise offers so much for so little. Fantastic island feasts, a huge range of water sports, scuba diving, nightly live music and entertainment. Beachcomber Island is world famous and exactly why we recommend it.
Mantaray Island Resort: There is a host of small, budget resorts in the Yasawa Island Group but after a lot of looking around, we chose what we know is the best! Mantaray Island Resortaward-winningod, a world class reef right on its beach and great facilities for an island resort. This little bit of paradise cannot be beaten for sun, fun and entertainment. Swim with the majestic Manta Rays from May " October, you may be a little lucky outside of these times!
Robinson Crusoe Island:A favourite with backpackers for many years! Famous for its legendary fire dancers and laid back atmosphere.
GUARANTEED ACCOMMODATION!…
If you pre-book an accommodation inclusive pass your accommodation is booked and guaranteed! We've also discounted it as part of the package so you get an immediate saving! If you book a Transport only pass we will guarantee to be able to get you shared Dorm accommodation, however Private Double / Twin is not. We will try our best but Private Rooms do fill up pretty quickly!   Please note during peak season we will might have to put you up in an alternative accommodation option depending on availability. Alternative accommodations will be of an equal standard. To avoid this please book early so we can booking your accommodation accordingly.
Trip Frequently Asked Questions
Included
Please see each individual passes for inclusions relevant to that pass. To make sure your hard-earned cash goes as far as possible, the following activities are included on the Fiji Experience passes. That means, no additional cost for all the fun stuff, which means more money to sit back and enjoy those long awaited, famous Fijian cocktails at some of Fiji´s best beach resorts. All activities are optional and should you not want to do them, there's always the beach!
| | |
| --- | --- |
| | Malamala Village… After spending the afternoon on the world famous Natadola Beach your Guide will take you into your first Fijian village and introduce you to the Fijian customs and village way of life. |
| | Sand Boarding Down the Sigatoka Sand Dunes After a cultural insight it´s time to get the adrenalin pumping with some sand boarding down the famous and historical Sigatoka sand dunes located on the spectacular Coral Coast! |
| | Rainforest Trek Rated the best activity by over 80% of passengers, the trek through the Namosi Highlands is loads of fun and will let you be at one with the Fijian jungle! (For those who aren´t able to do the trek, you can just relax as the long boat takes you up to meet the rest of the crew at the end of their trek) |
| | Secluded Waterfall Jumping & Swimming After our Jungle walk relax in the Qaranigio river with a refreshing swim or take the plunge and jump from the waterfall! |
| | School / Orphanage Visit Pass through rural Fijian villages along a dirt road and stop off at a local school or orphanage where you will receive a typical warm Fijian welcome by the local students and kids. This visit will be one of the most memorable of your Fiji Experience! Join in a quick game of footy or hear about what they are learning in school. The children always love to share their stories and learn as much as they can from you. |
| | Traditional Village Visit After the introduction to Fijian culture on day one, the visit to Wailotua is the real deal! Experience a traditional sevu-sevu ceremony at a remotely located village in the highlands. This is a unique opportunity to gain an insight into the day in a life of the local people. |
| | Bilibili Rafting After a few bowls of kava at Nasautoka Village it´s down into the Wanibuka River for bilibili rafting, the traditional Fijian style raft, with the locals and the regular bilibili raft races! |
| | Natural Mud Pools & Hot Pools Located at the base of the ´Sleeping Giant´ in the Sabeto Valley, the Sabeto hotpools offer a unique opportunity to relax in the natural hot pools. If a nice soak in the hot springs is too sedate for you, get down and dirty in the mud pools! |
Excluded
Flights to Fiji
Travel Insurance
Spending Money
Meals unless stated on the itinerary. Meal plans are common in most Fiji resorts and are also applicable at several other Fiji Experience resorts including Uprising Beach, Beachcomber Island, Mantaray Island and Coralview Island Resort. Its payable upon arrival at the resort.
Dates
Each pass departs on either a Wednesday or a Saturday. It is important to remember that you need to arrive the day before your departure day. Please contact for more info.